Is Your Contact Info Current?
Stay connected — even when you're not on vacation. To ensure you receive important Marriott Vacation Club® communications via email or postal mail, it's important to keep your contact information current.
When your contact information is correct, you can expect to receive:
Vacation confirmations and acknowledgments for transactions like electing to trade your Week(s) to receive Vacation Club Points
Reminders for important upcoming deadlines
The latest scoop on what's happening, as well as inspirational articles via your digital Owner magazine, the Insider
Invitations to participate in webinars and view tutorials designed to help you get the most out of your ownership
It's fast and easy to keep your information current on your Owner website by using Sunny, your virtual chatbot assistant.
First, log in to marriottvacationclub.com as an Owner, then click the "Chat With Us" button on the bottom right side of the landing page.

Next, from the list of options, click "Manage Account" then "Update Account Info".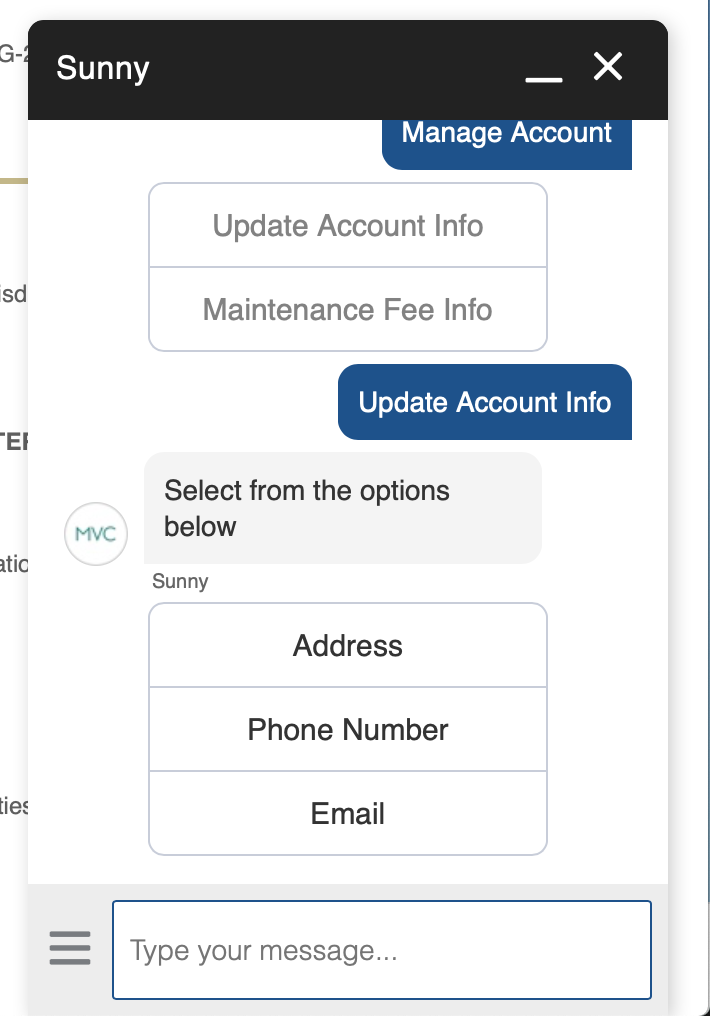 Don't forget to download the Marriott Vacation Club Owner app, available now for Apple® devices. Through the app, you can sign up to receive push notifications to help you manage your ownership.
Marriott Vacation Club International and their respective affiliates and subsidiaries make no warranty, express or implied, as to the condition, capacity, performance, or any other aspect of the activities, events, or service providers listed herein. No inquiry has been made into the activities or events, or the qualifications or the quality of services offered by the providers. Do not consider this an endorsement of or recommendation for any of the activities, events, or providers.
Apple® and Apple Logo® are trademarks of Apple Inc., registered in the U.S. and other countries. App Store is a service mark of Apple Inc.